Catherine's Peanut Curry Noodles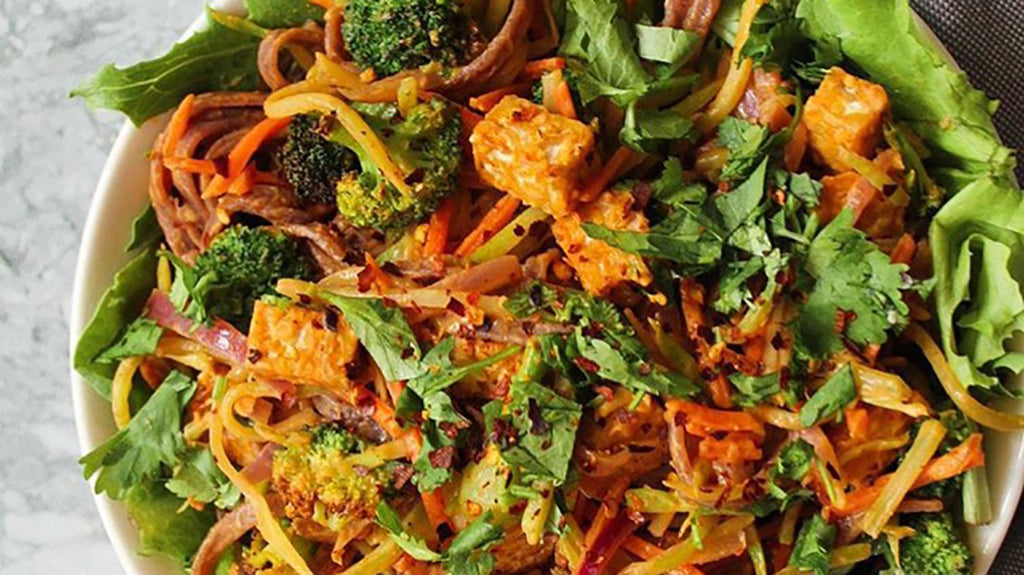 IG handle: @plantbasedrd
Ingredients

50g of Perfect Earth Pasta
½ block of tempeh,diced
½ tsp smoked paprika
1 tsp maple syrup
1 tbsp soy sauce
½ cup shredded carrot
½ cup shredded broccoli
1 cup roasted broccoli
Peanut Curry Sauce Ingredients
2 tbsp chunky peanut butter
1 tbsp Thai red curry paste
1 tbsp soy sauce, divided
1 tbsp maple syrup
2 tsp minced garlic
½ tsp ginger powder
½ tsp red pepper flakes (optional)
¼ cup water, divided
Cilantro, optional
Directions
Dice ½ block tempeh then place in a bowl. Add in soy sauce, maple syrup and smoked paprika, toss then place on baking sheet. Bake in oven at 400 F for at least 10 minutes.
For the sauce. Add peanut butter, paste, soy sauce, maple, garlic, and ginger to a bowl. Add in a half the water, then whisk together. Assess sauce thickness then add in remaining water and stir. If too thick, then add in 1 tbsp water at a time until desired consistency is reached. Set aside.
Bring pot of water to boil, then add noodles. Cook for 7 minutes. 2 minutes before the pasta is done, add the shredded veggies.
Once cooking time for noodles is complete, remove from stove top and drain in a strainer.
Place noodles and veggies back into pot then add in roasted broccoli, tempeh, and peanut sauce.
Toss together gently with tongs until noodles are fully coated. Adjust seasoning to preferences and top as desired.
Add cilantro or prefered herbs.