Malinda's Vegan Shrimp Alfredo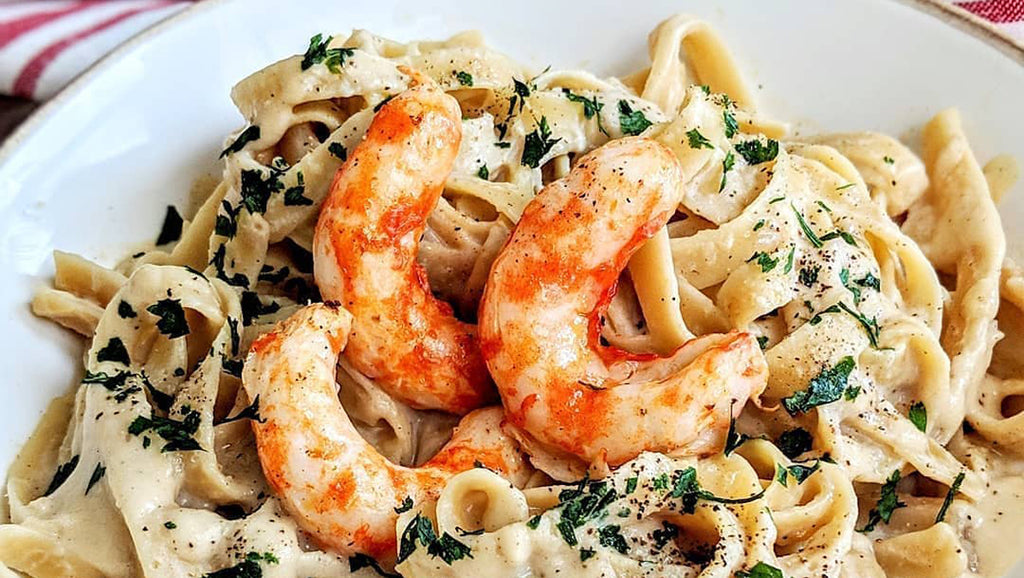 IG Handle: @kindred.vegan.souls
For the #veganalfredosauce, I borrowed a recipe from @simpleveganblog and made a few adjustments.
Ingredients
4 ounces uncooked Perfect Earth pasta

3+ vegan shrimp

extra virgin olive oil

1 tbsp vegan butter (optional) 

1-2 cloves of garlic, minced

3/4 cup unsweetened almond milk and more as desired 1 cup raw cauliflower, chopped

Salt and ground black pepper to taste

2-6 tbsp nutritional yeast

1/2 tbsp lemon juice

1/3 yellow onion (optional)

Parsley for garnish

Vegan parmesan for garnish
Directions
Cook the pasta al dente according to package directions.
Heat the oil in a frying pan and cook the garlic and onion over medium heat for about 3-4 minutes or until garlic is golden brown. 
Add the almond milk and bring it to a boil.
Lower the heat to medium-high, add the cauliflower, salt and pepper and cook for about 7 minutes or until the cauliflower is soft. Add more milk if needed.
Transfer to a blender and add 2-3 tbsp nutritional yeast and lemon juice. Blend until smooth. Taste and add more nutritional yeast if desired.
In a separate frying plan, heat 1-2 tsp oil, add vegan shrimp to pan and cook for 3-4 minutes.
Drain the pasta and pour it into the pan with the sauce. Mix in vegan butter for a more decadent dish. Stir and serve with shrimp on top. Garnish with parsley and vegan parmesan cheese.