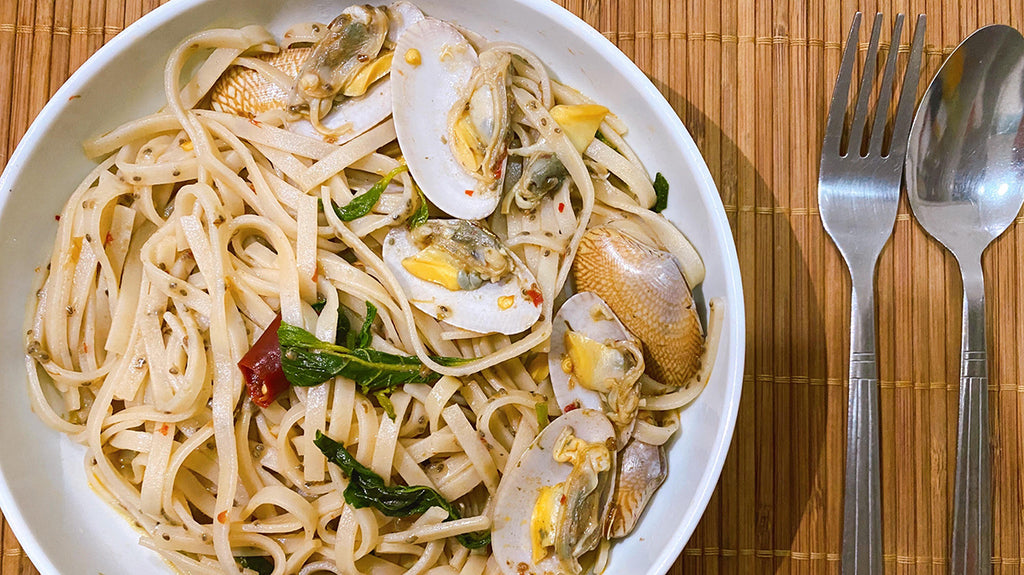 IG Handle: @chinchin_pumpui
Total cooking time is 15 minutes start from boiling pasta which is faster than cooking rice and better than cooking instant noodles. Delicious and feeling a little crispy from chia seeds.
Ingredients
Brown Rice Pasta with Chia  (for 1 serving)
Vegetable oil 1 tsp
Minced garlic 1 1/2 tbsp
Chili paste 2 tbsp
Oyster Sauce 2 tbsp
Fish sauce  1/2 tbsp
Sugar 1 tsp
Clam 300 grams
Basil leaves as much as you want
Directions
Boil rice Pasta or in case of chia pasta it would take more time for boiling (around 8 minutes) add some oil during boiling to separate noodle.
Add vegetable oil to the pan then stir-fried minced garlic after that add chili and chili paste.
Add Oyster sauce, fish sauce and sugar. Mixed all ingredients well.
Add clam to the pan, stir fried until clam absorb the sauce then put some basil leaves for good aroma.
Turn off the stove, add boiled pasta to the pan then mixed well.