Pasta al Pomodoro e Basilico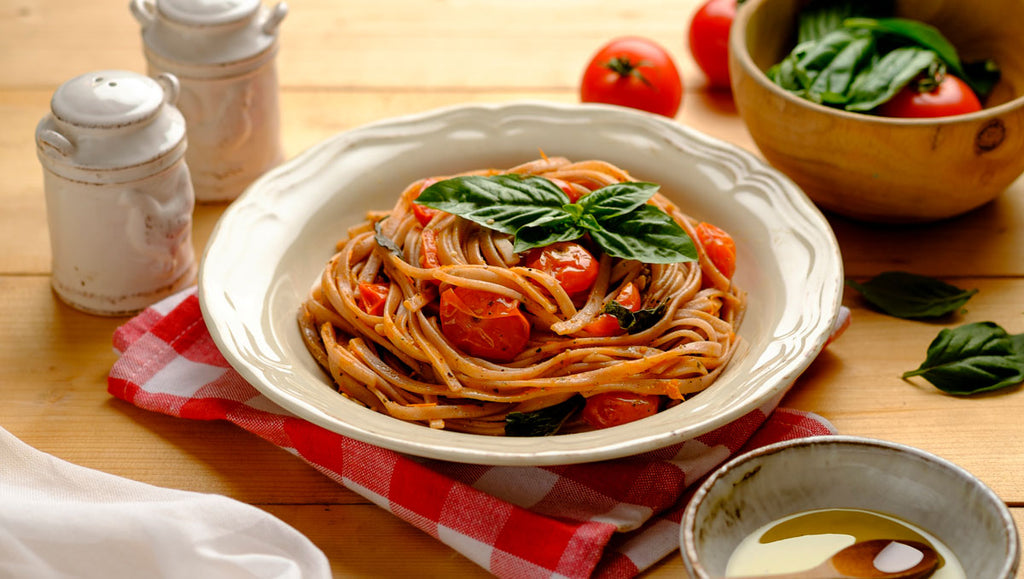 A fantastic weeknight meal guaranteed to make the whole table happy!
Ingredients
50g red rice noodle with chia
⅓ cup tomato paste
½ cup diced or puréed tomatoes
2 cloves of garlic, minced
1 tsp red pepper flakes
8 ml olive oil
1 large fresh basil sprig
1 tbsp unsalted butter
¼ cup of grated parmesan or pecorino
Directions
Cook the pasta in boiling salted water for about 7 minutes or until al dente. Stir pasta often to prevent the noodles from sticking. Drain, cover with cold water and drain.
In a frying pan, saute the garlic over medium heat with olive oil. Add red pepper flakes; cook for 1 minute more. Add tomato paste, basil sprig, and reduce heat. Stir in the diced or puréed tomatoes and ground black pepper to taste. Simmer on low heat for about 10 -15 minutes. Remove basil sprig and discard.
Add pasta and toss well with the butter and grated cheese.
Serve and enjoy!