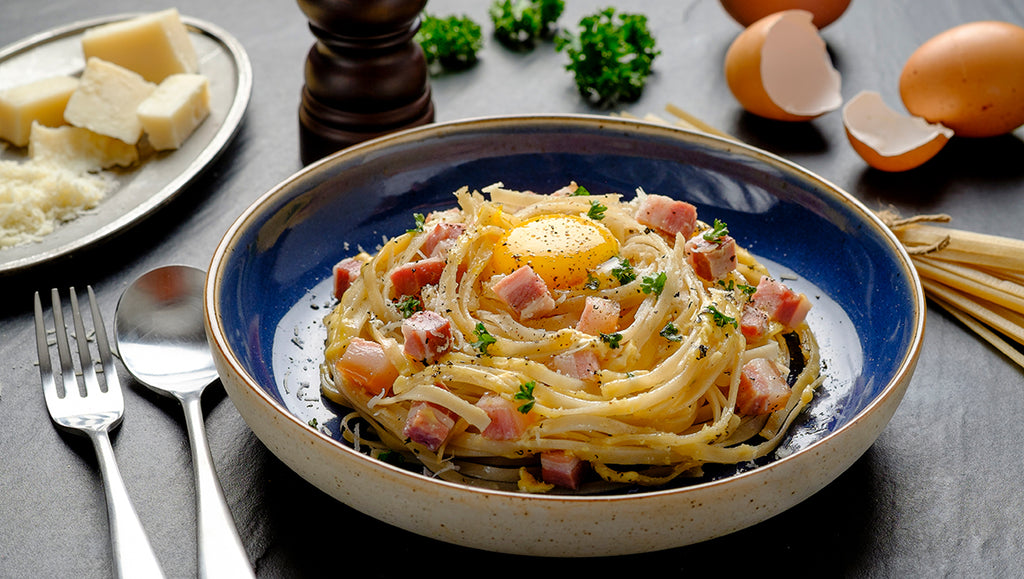 An all-time comfort classic, this Carbonara will be sure to do the trick.
Ingredients
   50g  white rice noodle with chia
   1/2 cup diced slab guanciale, pancetta, or bacon
   1 egg yolk
   ⅓ cup grated parmesan cheese
   ⅓ cup grated pecorino cheese
   1 tbsp olive oil
   Ground black pepper and salt to taste.
Directions
In a mixing bowl, whisk the egg yolk, parmesan and pecorino together and set aside.
Cook the pasta in boiling salted water for about 7 minutes or until al dente. Stir often to prevent the noodles from sticking. Reserve one cup of salted pasta water. Drain, cover with cold water, and drain.
In a frying pan, heat oil over medium heat and add the pork. Sauté until the fat has rendered, crispy but not hard. Remove from heat and set aside.
Add pasta to a heated serving bowl with the guanciale or bacon. Add the cheese mixture, and stir in the cup of reserved pasta water if needed for creaminess. Serve immediately, and sprinkle with a bit of additional pecorino and black pepper.
Enjoy!