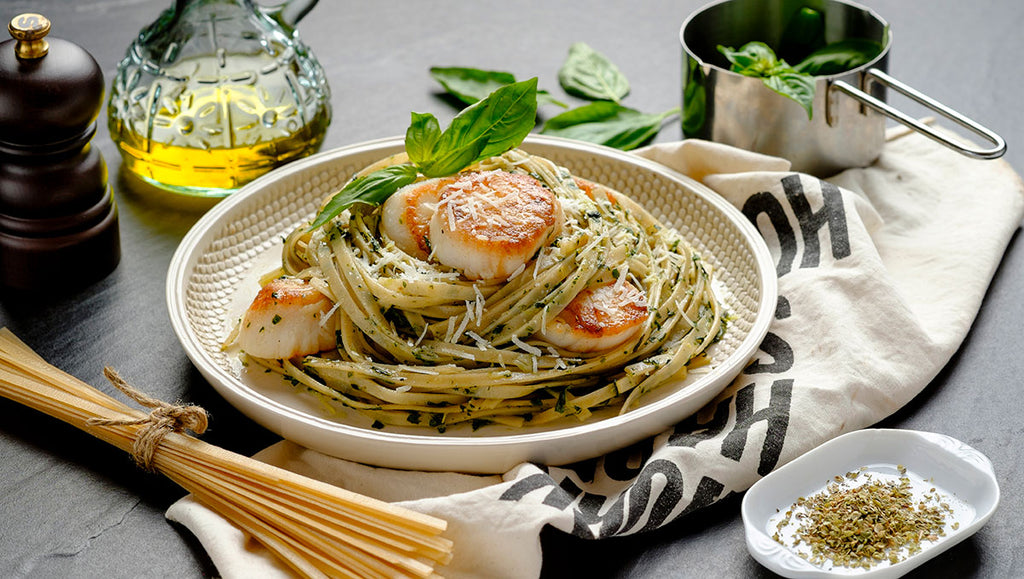 A great weeknight supper, this quick pesto recipe is a delicious, and convenient, meal – and it makes for fantastic leftovers!
Ingredients
50g rice noodles (brown rice noodles are recommended!)
3/4 cup basil leaves
5g pine nuts
2 garlic cloves, finely minced
25 ml olive oil
1 tbsp grated Parmesan cheese
3 grilled scallops (optional)
Ground black pepper and salt to taste
Directions
To make pesto sauce: blanche basil leaves in boiling water for around 1 minute. In a food processor or with a mortar and pestle, combine the minced garlic, pine nuts, parmesan while gradually adding olive oil. Season with salt and pepper to taste.
To make pasta: Cook the pasta for about 7 minutes or until al dente. Stir pasta often to prevent the noodles from sticking. Drain, and rinse with cold water. Drain.
Add pasta and stir to combine with the sauce.
Serve the pasta with grilled scallop, if using, and sprinkle with a grating of parmesan.
Enjoy!